CBD Creams
Topical creams to rub on joints & muscles
We developed ECODERM™, an amazing new pain cream that uses methyl salicylate, a proven topical agent that helps to relieve joint and muscle pain, as well as a blend of our premium quality, full spectrum, CBD-rich hemp extract. Apply this cream anywhere you have pain!
It's more than just pain cream™

CBD Creams for post workout pain.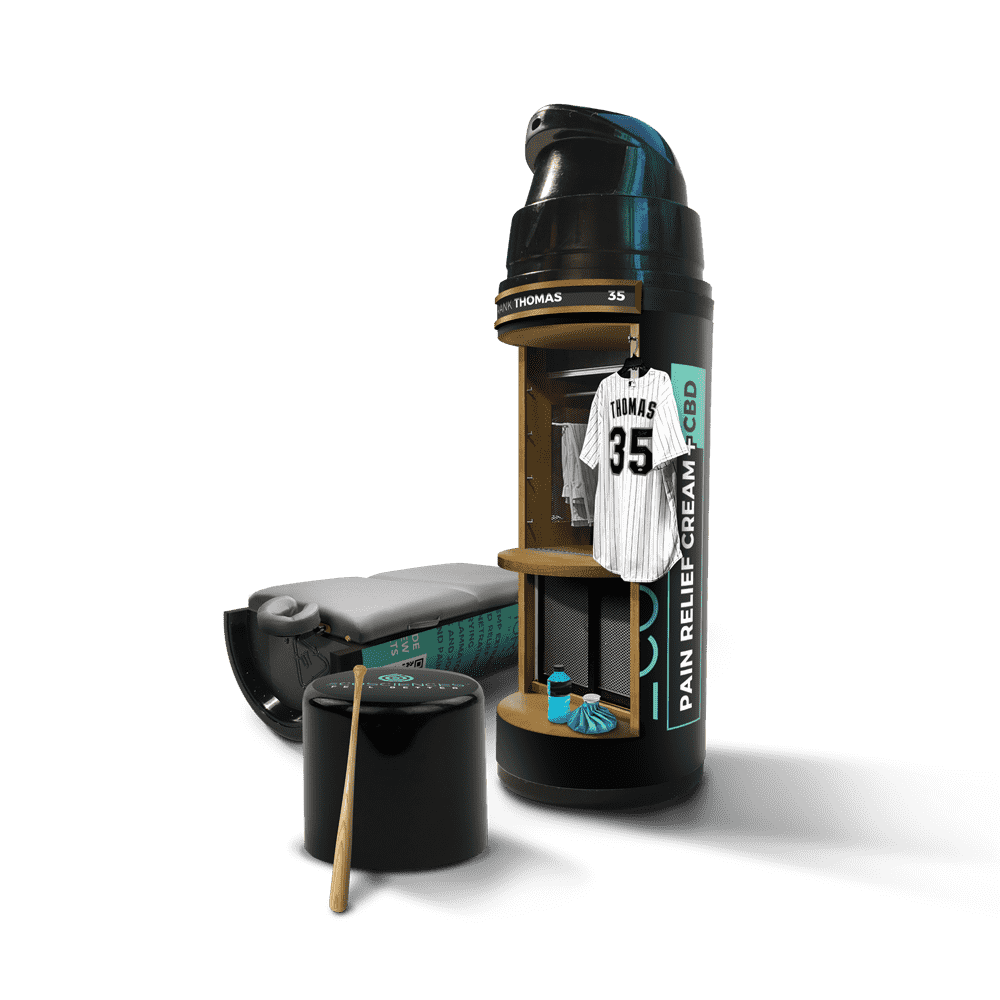 I purchased this for a friend and she is very satisfied with the results. She gave one tube to her sister, same results. Plan on purchasing more! – Beth Brule (Verified Buyer)
CBD Creams
We have entered into partnership with baseball legend and Hall of Famer Frank "The Big Hurt" Thomas, in order to develop the most effective topical pain relief product on the market! ECODERM™ is a pain cream that we spent a lot of time and effort in the meticulous formulation. We were determined to create the most effective combination of proven, pain relieving ingredients,  and blend it with our premium, CBD-rich, full spectrum hemp extract. 
Many baseball fans are aware of the fact that Frank "The Big Hurt" Thomas is no stranger to pain. As one of the successful baseball legends in the world, he has had to deal with numerous injuries over the course of his prolific Major League Baseball career. After being introduced to the extensive Eco Sciences line of CBD-rich, full spectrum hemp products, he was immediately inspired to take part in a collaboration that would result in the production of the ultimate pain cream. This is how we created ECODERM™.
We were motivated to utilize the finest quality ingredients in our endeavour to formulate the perfect CBD pain creams, as we wanted to create a unique product that would positively impact the lives of those who suffer from chronic pain. 
CBD Lotion
All pain cream lotion contain what is known as topical analgesics, which are compounds that provide pain relief when applied to the skin. The primary ingredient we use for ECODERM™ is methyl salicylate, which is a proven topical pain reliever that helps with long term muscle pain and discomfort. ECODERM™ comes in a light and airy formula that leaves the skin feeling soft and moisturized, but most importantly: pain free!
The feedback we have received on ECODERM™ is virtually unanimous, as it can help anyone from professional athletes to stay at home moms, and everyone in between. Chronic pain does not discriminate, and that is why we wanted to formulate a pain cream that is designed to help anyone dealing with fundamental pain that affects their daily life. Fortunately, our effort was extremely successful!